Main Content
Raleigh-Durham GUTTER GUARDS STARTING AT Just $15.97/ft
Double the life of your home by stopping moisture damage with the gutter guard that's backed by the industry's strongest written warranty.
The LeavesOut Story
Since my father invented LeavesOut in 1989 it has proven to work in all conditions and on all homes. LeavesOut is Customer Rated #1 Web Wide and offers the industry's strongest written transferable lifetime warranty. Learn more on our features page.
The LeavesOut Gutter Cover blends in perfectly with homes. The gutter cover has a super low profile and a protected "nose". It adds value to your home. Protects your home from expensive water damage. And comes with a transferable warranty.
Choosing Gutter Guards is Easy
We built the gutter guard business we'd want to do business with. We hope you do too!
#1 Rated Web Wide – Customers nationwide rave of the proven benefits of the LeavesOut Gutter Guard! Since 1989 LeavesOut has protected tens of thousands of Homes!
Invented by my Dad – As a retired major from the Air Force he saw the need to have a proven product that actually kept working for generations to come!
5″ or 6″ Seamless Gutters – We offer the highest trained professional LeavesOut Gutter Guard and seamless aluminum gutter installers in the industry.
Strongest Written Warranty – Lifetime no-clog, lifetime Alcoa material, a money back guarantee proven to handle the hardest rains, with a free 20 year transferable warranty.
26 Point Inspection – With 75 years combined experience we inspect your roof, foundation, flashing, gutters, fascia, soffit, siding, and pests around your home. ($325 Value)
Full-Service Cleaning – All gutter guard purchases include a full-Service gutter, downspout, roof, driveway, sidewalks, deck and porch cleaning. ($300 Value)
The #1 Rated Gutter Guard
The LeavesOut gutter guard's features is why it is rated #1 web wide.
1. 100% Lifetime Clog Free (Even Pine Straw!)
2. Alcoa Lifetime Product Warranty
3. End Caps Protect Against Birds & Squirrels
4. Built in Flashing Prevents Wood Rot
5. Tested to 12″ Rain An Hour, Guaranteed in Heavy Rains
6. No Nails in Roof. Easy to reroof. Works on All Roof Types.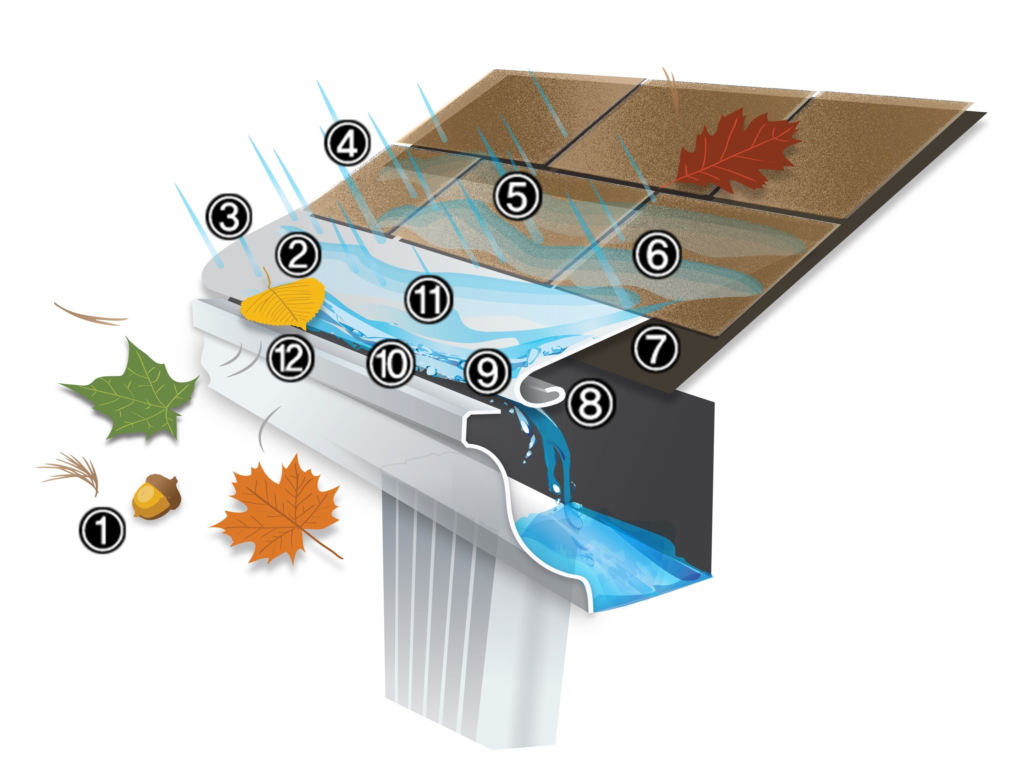 7. Simply Slides Between the Shingles & Blocks Ice
8. Patented Interlocking Sections (Installs on All Gutter Types)
9. Patented 280-Degree Low Profile, Almost Disappears!
10. Hurricane Stainless Steel Clips & Stainless Steel Screws (Works on copper!)
11. 2 Coat Airborne Acrylic Finish
12. Smaller Gap (Works with Christmas lights!)
Gutter Guard Service Areas
We proudly serve the greater Raleigh-Durham, NC area.
Mary Anne
★★★★★

I love my Leavesout gutter protection! Ben is an honest individual who guarantees his work. His experience and training have made him someone who does his best to help his customer. Integrity and compassion are part of his qualities, too.
Debbie Brittain
★★★★★

Thank you so much for installing the gutter guards and downspouts on my house. You were thorough and professional and worked so quietly I hardly knew you were here. You even went the extra mile and repaired some of the gutters that had come lose or were missing screws. I'll be telling all my friends about Ben and LeavesOut!
D.C.
★★★★★

LeavesOut installed Gutter Guards on our home and it works perfectly. Ben also pressure washed our home and it looks like new as well! Very professional job. Thank you Ben!