Customer Reviews
LeavesOut is Committed to Providing the Best Customer Service Possible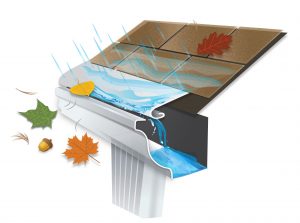 "The service, friendliness and the quality and promptness of the installation were fantastic.  Thanks Ben and Kraig for a job well done."
-Steve Sumpter | Wake Forest, NC
---
"Totally professional job. Guys even worked in the rain to finish the installation!"
-Arthur Mueller | Fuquay Varina, NC
---
"We were very pleased with our experience with LeavesOut.  Ben was very professional and knowledgeable and not only with our estimate, but the installation as well.  Would highly recommend!
-Mark & Kelly Slaybaugh | Wake Forest, NC
---
"Ben installed the LeavesOut Gutter Covers on our home and my Mom's home, in 2013. I was impressed with the information he provided as well as the fact that he is not a hard seller – Ben has an honest confidence in his product and it shows.
The best part is his attention to detail/workmanship. Upon completion I went up and looked at his work and was very impressed with the proper use and placement of clips and stainless steel hardware.
Recently when we added a small addition we had Ben install over the new gutter – same quality or workmanship, prompt response and terrific personality. I sincerely wish I could find other craftsmen like Ben."
-Dave | Raleigh NC
---
"Dear Ben,
We want to thank you for your professionalism, the time you dedicated to us, and for the integrity of your product. We were educated on all competitor products and found yours to be top notch that did not compare to any other. We have recommended LeavesOut to all of our friends. Thank you again!"
-Kristin and Chris Carver | Cary NC
---
"Thank you so much for installing the gutter guards and downspouts on my house. You were thorough and professional and worked so quietly I hardly knew you were here. You even went the extra mile and repaired some of the gutters that had come lose or were missing screws. I'll be telling all my friends about Ben and LeavesOut!"
-Debbie Brittain | Wake Forest NC
---
"He Installed LeavesOut Gutter Guards on our home and it works perfectly. Ben is very nice and professional.I love my leavesOut!"
-Joyce | Cary NC
---
"You did a great job we really appreciate it!"
– Nancy | Raleigh NC
---
"We enjoyed meeting you and look forward to our installation.  Thanks for taking time and your thoroughness during your visit.  Best Regards Bob & Kathy"
– Bob and Kathy | Wake Forest NC
---
"He Installed LeavesOut Gutter Guards on our home and it works perfectly.  He also pressure washed our home and it looks like new as well!  Very professional job.  Thank you Ben"
– DC | Cary NC
---
"Ben did an excellent job and was very informative about my home."
– Dan | Durham NC
---
"I love my "LeavesOut"  Gutter protection!  Ben is an honest individual who guarantees his work.  His experience and training have made him someone who does his best to help his customer.  Integrity and compassion are part of his qualities, too."
– Mary Anne | Raleigh NC
---
"We just love our gutter guards.  They do the job and we don't have any overflow.  They did a great job and we recommend them to all of our friends and neighbors. Thanks Ben."
– B. J. | Apex NC